Dynamic and interconnected public service solutions useful for each citizen
We provide interconnected solutions between educational actors, training organizations, orientation services and actors in employment in your region.
We are currently working with French and European local authorities to implement both regional and local initiatives.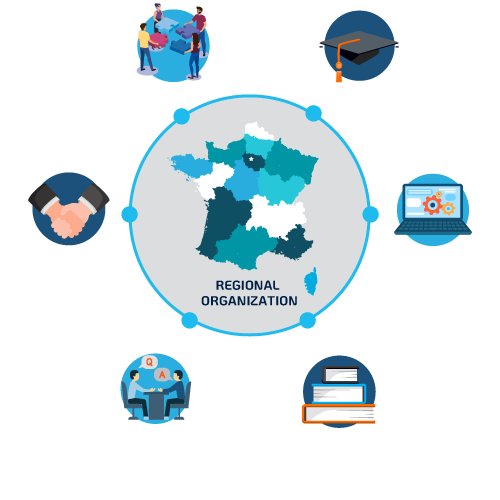 A collaborative approach for regional actors, citizens and stakeholders in training, employment and counseling

Citizens
 Make available and evaluate an individual's experience and capabilities,

Reduce an individual's  unemployment period,

Create a dynamic, digital CV that can be easily shared,

Keep a person's information up to date throughout their professional and personal development,
Contextualize a person's skills  with opportunities in the region,
Provide access to a coherent and adapted couseling offering 

Actors in training, employment and counseling services
Better knowledge of the market and their targets thanks to detailed skills statistics,

Increase the relevance of the offers that are made,

Ensure the follow-up of individuals over time,

Receive more complete profiles that accurately reflect the skills of individuals,

Offer complementary services to citizens

State and Local Governments
Reduce recruitment time,
Increase the rate of return to employment after training,
Meet your federal, state and local employment targets by ensuring a training and employment program centered around the individual,
More precise and relevant targeting of training, jobs, information and support,
Receive detailed statistics on acquired/required skills that allow you to prove and forecast skills needs
Regional projects built for citizens
We are working to make our interconnected solutions available to as many citizens as possible through local and regional applications.
Orientation and reorientation assessments
We provide interoperability solutions between regional orientation and employment platforms, edtechs, actors of the Regional Government's Public Orientation Service, CIOs, and workforce agencies.
Thanks to this interoperability, we generate orientation or reorientation assessments that list the skills of citizens at the service of the orientation services and local orientation counselors, local development organizations, etc.
Create your personalized ecosystem
We help you build an ecosystem allowing data to circulate between public and private actors with a collaborative methodology. To do this, we help you animate the ecosystem and implement standards for data sharing.
In parallel, we conduct thematic workshops on UX, governance, business models and legal issues to ensure a state-of-the-art ecosystem.