Travel Connect, a data space for Tourism in France
As part of the upcoming Paris 2024 Olympic Games, Visions is actively involved in a large-scale project led by the EONA-X association. The aim of this project is to create an innovative tourism data space, based on Gaia-X standards. This large-scale ecosystem brings together over 60 key players, both public and private, from the tourism industry in France, as well as European partners.
Travel Connect project goals
Develop a data space for tourism in France.
Offer travelers the possibility of easily circulating their data, with their consent, between the various digital services involved in their trip.
Provide a seamless, personalized and controlled travel experience.
Help travelers reduce their environmental impact during their trips.
Provide greater visibility and aggregated statistics for digital tourism services, including small ones.
Themis project description
Themis is working to create a tourism data space. This ecosystem interconnects numerous players, enabling them to propose offers, integrate payment and sell access to their data in full compliance.
For individuals, this ecosystem enables them to share their data easily: from one digital service to another. This data serves travelers before, during and after their trip.
The data generated by interconnected services is used to offer personalized recommendations to travelers thanks to artificial intelligence. These recommendations are based on users' mobility, hospitality and leisure data, while preserving their privacy.
What's more, thanks to the "Tell us once" approach, travelers can easily connect and share their data, such as identity, payments, preferences, and transaction data, between different digital services without the need to enter it multiple times. To ensure total control over their data sharing, travelers will have access to a consent dashboard, dubbed "Travel Connect", where they can manage and revoke their authorizations at any time. This innovative approach promises to simplify travel planning, enhance the tourism experience and safeguard the privacy of travelers' data during the Paris 2024 Olympic Games.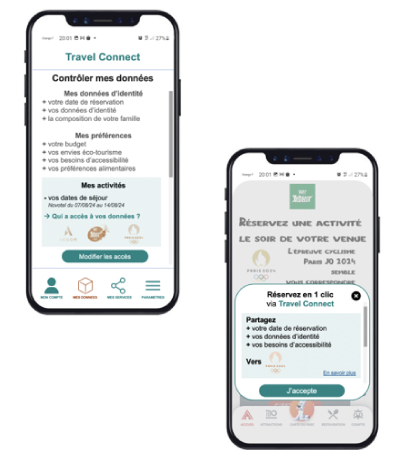 2 / During your trip
Travelers benefit from personalized recommendations throughout their stay, enhancing their tourism experience. In addition to these recommendations, alerts and traveler assistants are set up to offer continuous monitoring and support during their stay, ensuring an optimal and enriching tourism experience. Thanks to these features, travelers can more easily explore local attractions, discover activities tailored to their preferences, and enjoy their stay worry-free.
3/ After your trip
After their stay, travelers benefit from an efficient sharing process for their expense reports and recommendations. What's more, in the event of a need for assistance or problem resolution, travelers can also share relevant documents securely and quickly on Travel Connect. These features enhance the overall quality of the tourism experience and strengthen travelers' confidence in the digital services on offer.
VisionsTrust will be used to operate the Travel Connect Personal Data Intermediary
Participants in the Themis project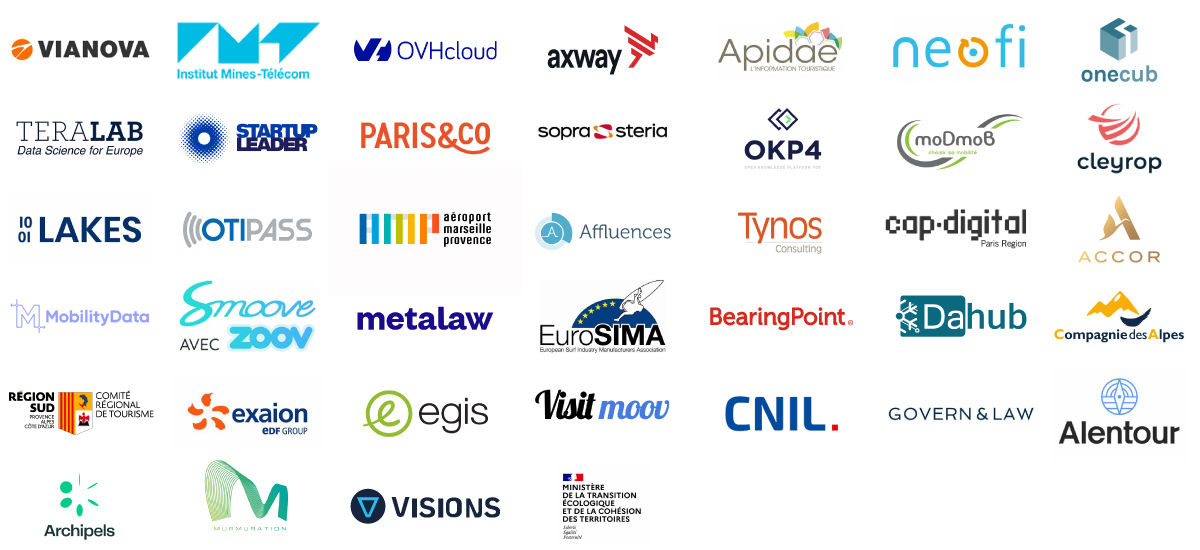 Validation of use case and pilot partners
Themis has established partnerships with major players such as Accor, Apidae, Compagnie des Alpes and Alentour. Together, they have developed the project's first use case, which involves sharing travelers' data relating to their identity (for example, family composition with 2 children), preferences (such as wheelchair accessibility requirements) and agendas (such as theme park bookings) in order to provide them with recommendations for personalized offers such as activities near the hotel suitable for disabled children.

Setting up the sharing infrastructure
Based on existing technologies, the Themis project has set up a reliable and secure infrastructure for sharing traveler data with members of the ecosystem. This infrastructure has been tested to ensure seamless interconnection between the various players involved.